Home

›

Marketing Agency - Digital Agency Presentation
Technical specifications
| | |
| --- | --- |
| Author | clean-promo from VideoHive |
| Operating Systems | Windows & MAC |
| Type | Video Template |
| Category | Product Promo > Commercials |
| Files Included | After Effects Project Files |
| Soft | Adobe After Effects |
| After Effects Version | CC 2015, CC 2014, CC, CS6, CS5.5 |
| Universal Expressions | Yes |
| Resolution | 3840x2160 |
| Text Placeholders | 161 |
| Media Placeholders | 82 |
| Created | 29 June 16 |
| Last Update | 29 June 16 |
| File Size | 10Mb |
About template
Digital Presentation // Presentation Marketing Agency kit. Pack CS5
Download motion Graphics Digital Presentation // Presentation Marketing Agency kit. After Effects Templates CS5, a stylish solution for corporate, After Effect project
Simple Control & Modular Construction
Easy setup and quick customizing! Use Only The Shots You Need & Rearrange Order
Digital Presentation // Presentation Marketing Agency kit. Pack CS5. Screens
UNIVERSAL PROJECT TO PROMOTE YOUR APP, SERVICE, PRODUCT, WEBSITE OR EVEN THE WHOLE COMPANY MISSION
Digital Agency or Production Demo Reel
This After Effects project is a great way to profile your company and its services.
'Marketing Agency Production Demo Reel' cinematic slide show perfect for your opener, tv show, photo/video slide show or any media opener.
Perfect for: corporate slideshow, country travels, gallery, my journey, my video, production demo, showreel, slideshow, special event, travel promo, travel trailer, video display, video documentary, video promo
Digital Presentation // Presentation Marketing Agency kit. Pack CS5 include:
NO EXTERNAL PLUGINS NEEDED – you can even use a demo version of After Effects to use the project
Elegant animation
4K TV Monitor Bigger Screen
2K resolution
Very easy to use (even for beginners), well organized project, help file included
Full HD (1920×1080) – can be easily converted to any lower resolution
No plugins required
One click to change color, duration
Fast rendering
PDF tutorial
After Effects CS5 and above
Also You May Download Corporate Presentation Business Template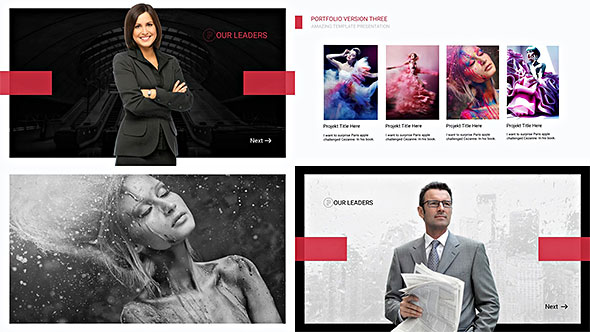 Very simple and well organize project. You can use images instead of videos even special events.
You can easily change the colors in just one simple step. Changing text, drop your media, audio and hit render. Fast rendering project. You don't need any Advance knowledge of After Effects in order to use this project. Even if you never worked with the After Effects you can watch the video tutorial and complete the job.
Marketing Agency – Digital Agency Presentation perfect for:
Perfect For: fast quick simple minimal slides travel slideshow, Holiday, photo/video slide show. Movie or tv show opener. Special events. any media opener. trailer, intro, promo, showreel, demo reel, or production demoreel or show reel Customise this stylish slideshow project. Showcase 82 videos to reveal a special image of someone for their birthday, wedding, anniversary, Christmas, special occasions, travel destination, product launch or for your company conference. Drag and drop in your photos, adjust the position of each to your liking, add audio, then hit render!
Free fonts for Digital Presentation // Presentation Marketing Agency kit.
Uplifting and Inspiring Background
Questions
If you have any questions – contact me via my personal page.
Support
Free e-mail support: havin' trouble with my template? Always happy to help!
Customization service
Customization service available! Do you want me to customize the template for you? Just contact me throught the form on my profile page.
Please rate
Please support Digital Presentation // Presentation Marketing Agency Pack CS5 – rate my file after purchase Please rate Thanks a lot!
and share it on Twitter, Facebook, Google +1 or your blog.
Purchase Digital Presentation // Presentation Marketing Agency CS5 and Enjoy!
Thank Your for watching !
Also You May Download Orange Presentation Template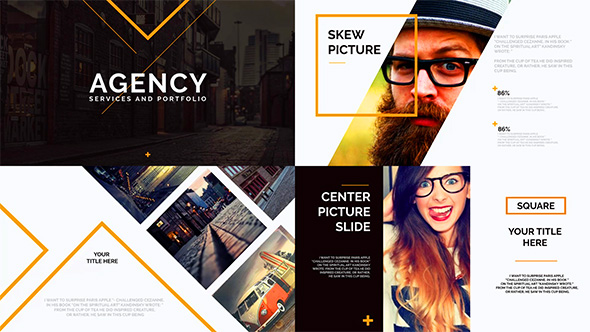 It is clean, simple, modern and minimal. It's modular structure makes it easy to customize. Add, Remove or Rearrange the segments to fit your needs. Also, the project is set up so that most color adjustments are a breeze. Template fits for any kind of activity field, it's meant to be simple, elegant, dynamic. More tags: app, clean, corporate, cute, easy, girl, marketing, presentation, product, promote, promotion, service, website, analysis, business, businessman, encircle, find, glass, idea, market, profit, resource, sales, strategy, transparent, words company promo, company growth and achievements event, infographics, motion graphics, social, start up, startup, timeline, customizable, stylish, versatile, infographic, minimal, simple, smudgethis, typography internet video marketing, marketing video, Media Marketing, search engine optimization, seo, social media marketing, video blogs, video content marketing, video seo, viral marketing, youtube video marketing, after effects, template, bestseller, cover, digital, e-publishing, ebook, gloss, iBook, self publish, story, writer article, broadcast, customizable, headline, magazine, modular, photo display, photographer, press, printed media, private, text business, charts, clean, company, corporate, graphics, graphs, identity, info, infographics, marketing, presentation, promo, showcase, stats badges, hipster, label, logo, logo toolkit, pack, retro title, minimal, minimal icons, minimal label, minimal logo, minimal shapes, minimal title, wedding chat, friend, grass, leisure, male, man, outdoors, park, sitting, smiling, summer, tablet, talk, technology, young boy, cafe, call, cell, coffee house, coffee shop, handsome, hipster, man, phone, smartphone, speak, talking, telephony, young 2d, badge, badges, clean, crest, film, grain, hipster, intro, overlay, pack, retro, texture, vol background, beauty, business, businessman, caucasian, handsome, looking, man, mobile, people, person, phone, portrait, smoke, young agency, black, broadcast, business, city, communication, , grey, marketing, showcase, white, yellow architecture, business, construction, hipster, meeting, office, partnership, people, person, project, student, teamwork, three, work, young bokeh, color, film burns, flare, hipster indie, leaks, light, overlay, rays, reflections, shine, summer, sun, travel adventure, animated, badge, beach, grunge, hipster, holiday, label, party, retro, summer, text, titles,